Design & Rapid Prototyping Services
Now Offering Design and Rapid Prototyping Service for Castings
Time Units
1
2
3
4
5
6
7
8
9
10
11
12
Typical Process
Customer Development
Customer + Graphicast
Graphicast DRPS
Customer + Graphicast DRPS
The timeline shows why customers use Graphicast's Design and Rapid Prototype Service (DRPS). You can greatly shorten time to market and reduce development costs at the same time. Graphicast will help engineer your part as a casting from the start, giving you the opportunity to maximize as-cast features in your part. This reduces machining, saving you money on production parts.
Contact us today to see if our process will work for your parts, application, or timeline.
We Work with You to Take Advantage of Opportunity
Graphicast has worked with customers for more than 40 years to turn their part designs into cost effective casting solutions. Graphicast often works within an existing design, a fabrication, a machined part, or a machined prototype component. Since the parts were not designed as a casting in these examples, there may have been lost opportunities to gain the full economic benefit of as-cast features. What if the design process started with the thought of casting the part?
By starting a new part design with the casting process in mind, all considerations of a casting (draft, radii, cast surfaces, and near net shape geometry) can be incorporated to take full advantage of the process. This yields the lowest part cost. This is why Graphicast offers a Design and Rapid Prototype Service. Graphicast will work with you from the beginning of your product design process to develop the most cost effective casting solution for your part. Additionally, Graphicast can greatly reduce total development time and cost by eliminating intermediate prototyping steps. You will be prototyping to the final design in the final material.
Graphicast's Design and Rapid Prototyping Process
In talking with our customers, we learned they often go through two steps in their current product development process. They first employ several rapid prototyping methods (most frequently stereolithography – SLA) during concept and early design stages, and then go on to produce a CNC machined prototype at the end of the process. Most indicated it would have been a huge benefit to have had help with casting design at the start of the project. They saw the benefit as not just time and cost savings, but also viewed it as a tool to reduce stress on their internal resources.
The key to successfully applying a casting process to a new product design is to consider the process capabilities and limitations right from the start of the project, when there is maximum design flexibility. This is a goal of any Lean Product Development or Design for Manufacturability effort. By using Graphicast's expertise in converting parts to castings, we want to help you plan the most cost effective approach to your original design. Typically, when the design meets your criteria and approval, we produce a SLA prototype. We find this gives our customers a very clear idea of what the final part will look like and to use it for form, fit, and function checks.
Frequently, this stage provides the knowledge and confidence to proceed directly to production of the mold. In the case where a metal prototype is required to test specific properties (such as thermal or electrical conductivity, strength, EMI shielding, or lubricity), or for an assembly fit or mechanical testing, we can produce a CNC machined prototype made from our ZA12 alloy. The ZA12 prototype can incorporate all the design considerations of a casting. In all cases, the time to produce the mold and cast the first production parts is greatly reduced because the part design was done in the prototyping stage.
Graphicast believes this process is so effective, we will apply $1000 of any DRPS project toward the cost of the graphite mold for the part designed in the project.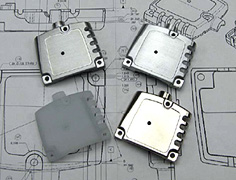 The photograph shows the full extent of a DRPS project. Starting from the lower left and proceeding clockwise: SLA prototype part, CNC machined prototype part,
machined production casting, plated production part. The entire design process can be explored in a variety of prototyping methods to achieve the best design for your part.