At Graphicast, we combine proprietary casting technology with zinc-aluminum alloy (ZA-12) to offer the quality and mechanical characteristics of traditional castings, with cost and time savings they simply cannot beat. Download the documents below to read how Graphicast solutions provided our clients with the highest quality finished product while reducing costs and time to market.
Manufacturer of Lens-Cutting Machines Focuses on Cost Savings with Graphite Mold Casting Process
A leading manufacturer of lens processing equipment is saving time and money, thanks to an economical casting process. A part that was, until recently, made up of four individually machined pieces is now being produced as a single, economical casting that is more rigid and more stable than the old 4-part assembly.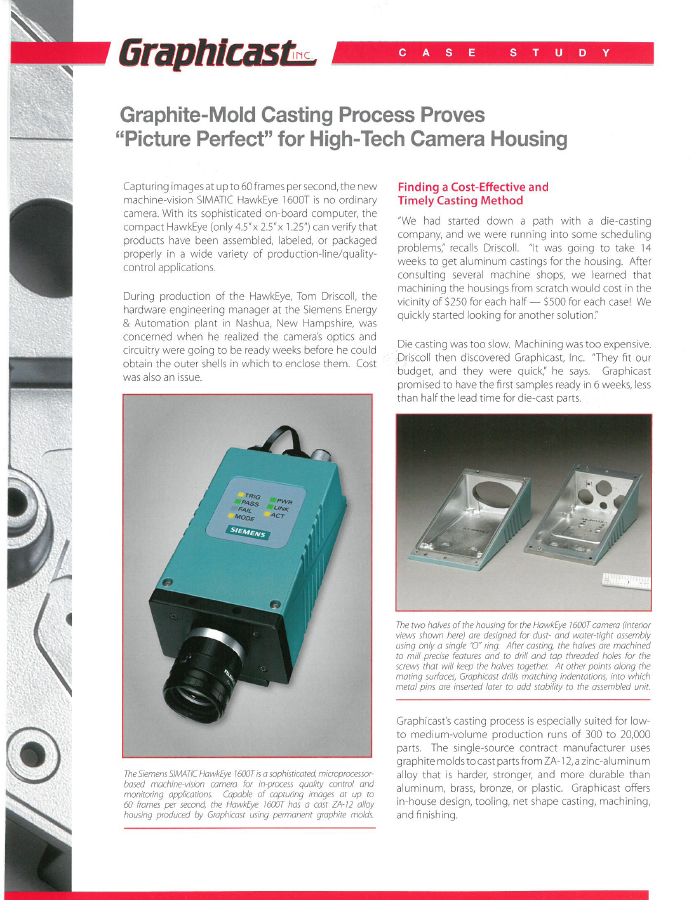 Graphite-Mold Casting Process Proves "Picture Perfect" for High-Tech Camera Housing
Capturing images at up to 60 frames per second, the new machine-vision SIMATIC HawkEye 1600T is no ordinary camera. With its sophisticated on-board computer, the compact HawkEye (only 4.5″x 2.5″x 125″) can verify that products have been assembled, labeled, or packaged properly in a wide variety of production-line/quality­control applications.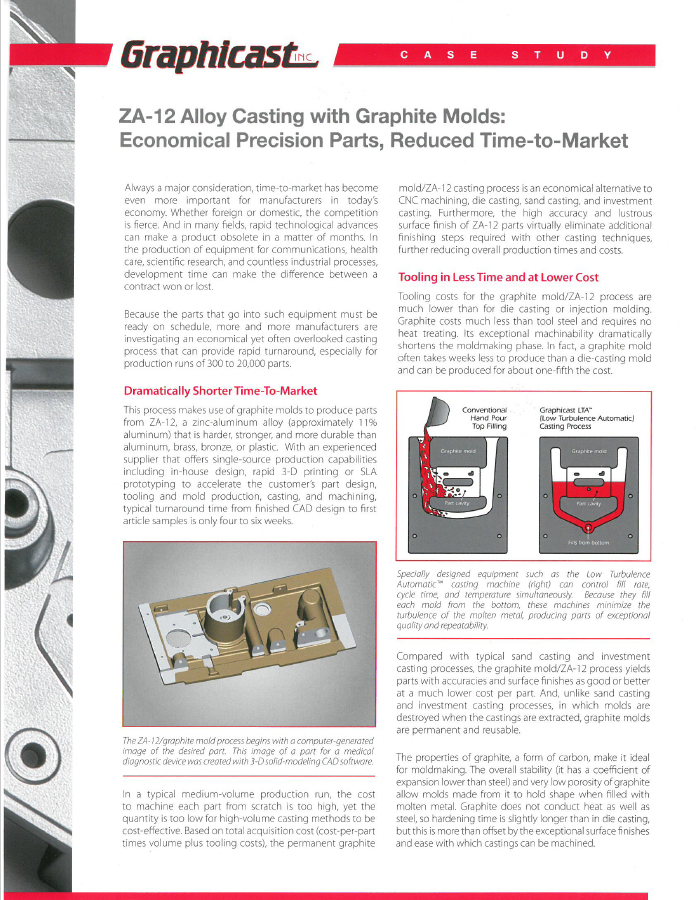 ZA-12 Alloy Casting with Graphite Molds: Economical Precision Parts, Reduced Time-to-Market
Always a major consideration, time-to-market has become even more important for manufacturers in today's economy. Whether foreign or domestic, the competition is fierce. And in many fields, rapid technological advances can make a product obsolete in a matter of months. In the production of equipment for communications, health care, scientific research, and countless industrial processes, development time can make the difference between a contract won or lost.